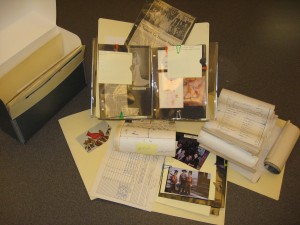 Jeroline Baker (1932-2007) was born June 25, 1932, in Paris, Kentucky, the daughter of Ida Mae Lacefield Baker and Emmit Baker.  Ms. Baker graduated from Frankfort High School in 1950 and held undergraduate degrees from Cumberland and Georgetown Colleges, a Master's Degree from the University of Kentucky, and a PhD. in Education from North Texas State University.  She taught in public schools in Lexington and Paducah and later became a professor at Southwestern Theological Seminary in Fort Worth Texas for 27 years.  After her retirement and return to Kentucky, Ms. Baker became an avid genealogist and amassed a large research collection.
This collection (MSS 198) documents genealogical research Ms. Baker did from 1990 to 2007 on her Baker and Lacefield family lines and related families. Housed in 16 boxes, the files contain family charts, notes, group sheets, copies of vital records, correspondence and bible records. The majority of the Kentucky research focuses on Central Kentucky. Other states include Illinois, Pennsylvania, Virginia, Missouri, North Carolina, Tennessee and Texas. Family names with significant content include: Baker, Hearn, Lacefield, Laswell, Long, Marshall, McAndre, McDonald, Mefford, Owsley, Peak, Pfeiffer, Sams and Sheets.
Researchers interested in accessing this collection can see the catalog record online, view the finding aid online or visit the Martin F. Schmidt library at the Kentucky Historical Society.