When:
June 25, 2022 @ 10:00 am – 12:00 pm
2022-06-25T10:00:00-04:00
2022-06-25T12:00:00-04:00
Where:
Zoom: Hosted by Kentucky Historical Society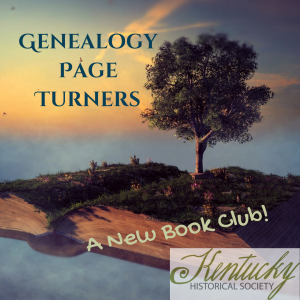 The Kentucky Historical Society has a new book club designed to help you keep your 2022 reading resolutions on-task! Over the course of 10 months (February – November), we will be meeting virtually to discuss a couple of titles by acclaimed author, Nathan Dylan Goodwin: The Foundlings and The Chester Creek Murders. The meetings for this series will take place via Zoom every 4th Saturday from 10am-12pm EST. We may not fill the full 2 hours every month, but the sessions are FREE and designed to help us reflect on what we read, and how it relates to our research. While these two titles are fiction, the details covering DNA/genealogy analysis will serve as hypothetical case studies, helping you put theory into practice.
Pre-registration is required for this Goodwin series – but only once! Anyone who signs up will be sent the Zoom invitations monthly – so no need to re-register each month. Please click HERE to register, or click on the green "tickets" or "register" button above. You are responsible for acquiring a copy of the book/s we will be using for the sessions – electronic or print – your choice. For those in the area, some copies will be available in KHS' 1792 Store at the beginning of 2022. **NOTE** These sessions will NOT be recorded.
 2022 Reading Schedule
February: The Foundlings, Chapters: Prologue, 1-5
March: Chapters 6 – 11
April: Chapters 12 – 17
May: Chapters 18 – 22
June: 23 – 27, Epilogue
July: The Chester Creek Murders – Chapters 1 – 9
August: Chapters 10 – 17
September: Chapters 18 – 23
October: Chapters 24 – 31
November: Chapters 32 – 39
The Genealogy Page Turners will be covering a few different titles – so just register once for the titles/series in which you wish to participate. Be watching Kentucky Ancestors Online for additional title selections. Please contact khsrefdesk@ky.gov or 502-782-8080 for any questions about this program.