When:
March 8, 2014 @ 3:00 pm – 8:45 pm
2014-03-08T15:00:00+00:00
2014-03-08T20:45:00+00:00
Where:
Kentucky Historical Society
100 West Broadway Street
Frankfort, KY 40601
USA

Contact:
KHS Library Staff
502-564-1792 ext 4460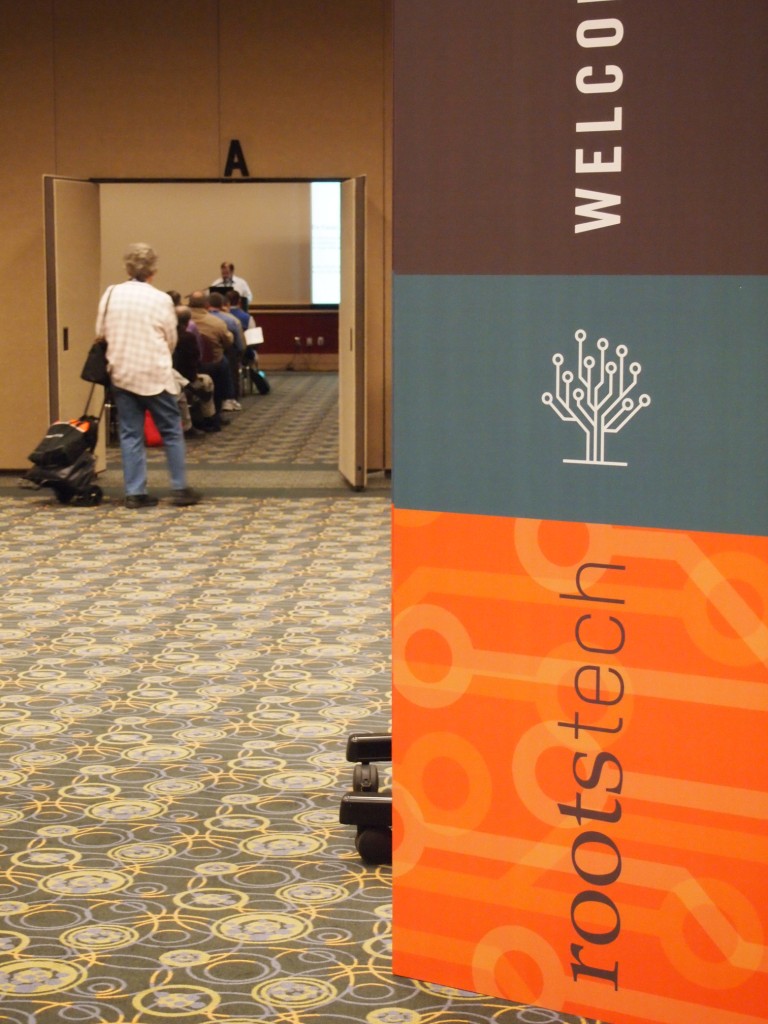 **NOTE** Change in time and format for this Second Saturday event!
The Kentucky Historical Society and the Kentucky Genealogical Society cordially invite you to the first ever, RootsTech Family History Fair!
This March, join KHS and KGS for a day-long family history event, sponsored by the RootsTech Conference!
In February 2014, the annual RootsTech Conference takes place in Salt Lake City, Utah – the largest national genealogy conference in the country. This year, several sessions were selected for recording to be shared exclusively at Family History Fairs around the world. The Kentucky Historical Society has been selected as one of the participating venues!
What this means: On March 8th, our regularly scheduled Second Saturday will take on a slightly different shape. Our sessions will begin earlier (10:00AM) and end later in the day (3:45PM). During that time, we will be providing three different sessions each hour, giving you the option to choose which session you want to attend! After the opening session, the remaining sessions will be taking place concurrently every hour in three separate rooms throughout the History Center, with different topics in each room; Just like a real conference! You will be experiencing a portion of RootsTech that will only be available to those who attend the sponsored History Fairs – most of the sessions shown ARE NOT the same sessions available for viewing online!
This event is FREE, but registration is REQUIRED! Lunch will be handled in the same way – you must pre-order a lunch before noon on Friday, March 7th. 
Schedule for the day (You can stay as long or as little as you like. You can choose the number of sessions to attend and pick the subjects you want to see!): Download Full Program Here: RootsTech FHF Program 

***All Sessions are Pre-Recorded Video Presentations***
9:00AM  – 10:00AM:
Doors to KHS open + check-in: Commonwealth Hall or Ann Street Welcome Center (Yes, the library will be open as well for early research)
10:00AM – 11:00AM:
Keynote: Judy Russell (The Legal Genealogist) and Dr. Spencer Wells (National Geographic Genome Project) [Brown Forman Room]
Judy Russell is a certified genealogist with a law degree who enjoys helping others
understand the interplay between genealogy and the law. She blogs and maintains The
Legal Genealogist website.
Dr. Spencer Wells serves as the director of the Genographic Project—a partnership
between IBM, the Waitt Family Foundation, and National Geographic to capture a genetic
snapshot of humanity.
11:00AM – 11:15AM
Break
11:15AM – 12:15PM
Information Overload: Managing Online Searches and Their Results by D. Joshua Taylor [Brown Forman Room]

Begging for Spit: DNA Testing and Your Family by Blaine Bettinger [Klotter Classrooms]

Basic Online Resources for the Beginning Genealogist by Lisa Alzo [Keeneland Gallery]

12:15PM – 1:30PM
Lunch (pre-ordered box lunch, or locally on your own)
1:30PM – 2:30PM
Getting the Most Out of Ancestry.com by Crista Cowan [Brown Forman Conference Hall]

Advanced Techniques for Use of Autosomal DNA Tests to Break Through Genealogical Brick Walls by Tim Janzen [Klotter Classrooms]

How to Scan an Elephant:  Digitizing Your Family History from Artifact to Zombie by Denise Levenick [Keeneland Gallery]

2:30PM – 2:45PM
Break
2:45PM – 3:45PM
A Beginners Guide to Going Paperless by Randy Whited [Brown Forman Conference Hall]

How to Use YouTube for Family History: Setting Up Your Own YouTube Channel by Lisa Louise Cooke [Klotter Classrooms]

Effective Database Search Tactics by Kory Meyerink [Keeneland Gallery]
About the speakers:
The sessions shown in each room will be fully recorded versions, taped at the 2014 RootsTech Conference! These sessions were delivered by nationally recognized leaders in the genealogy field. Full Family History Fair Program, including Speaker Bios available for download here: RootsTech FHF Program

A light box lunch is available at a cost of $7 payable at the door when requested in advance. Registration for this  free program is REQUIRED. ***LUNCH RESERVATIONS MUST BE MADE BY NOON OF THE PREVIOUS FRIDAY.***
free sample barely need to have in mind that the