Editor's Note: This article marks the beginning of another new series in our How-to section, called Pickling Our Past. This is your chance to ask our KHS staff for advice when preserving your family photos, documents, and antiques. Periodically, a new question from readers will be answered by a member of the KHS archives or museum staff. Got a question about your family heirloom? Send it in and you may see it featured in a future Pickling Our Past!
By: Jennifer Duplaga, KHS Special Collections Administrator
Q:
Dear Kentucky Historical Society,
I have recently acquired nearly 40 letters from an estate of a direct descendant of Isaac Shelby. The letters range from 1750 thru 1818. 3-4 letters are written by Isaac Shelby and also 3-4 letters by his father Evan Shelby but most are written to Col. Isaac Shelby.
I am currently researching these letters.
I was wondering do you have any suggestions of the best way to store these old fragile letters/documents?
If interested please see the attached letter by Isaac Shelby to his Brother James dated January 17, 1783.
Sincerely,
Allan Coyle
A:
Allan- Great question!  At the Kentucky Historical Society we store documents such as yours in archival file folders, just like you would office files.  It is important that you not overstuff the folders since that can cause items to misshapen or tear.  You have too much in it when the folder begins to bulge.  If possible, try to store items unfolded.  Folding and unfolding of documents weakens paper fibers.  As a result, fold lines are one of the most delicate parts of paper documents and are most prone to tearing.  This is most common in letters that are kept in their envelopes.  It is best to take the letter out of the envelope, unfold the letter, and place both items in the folder next to one another.
A quick word on the term "archival".  "Archival" is one of those terms that gets thrown around often, but does not have a clear definition, particularly when it comes to products used to store historic materials.  Most merchandise labeled as archival will be better for your collections than materials from the office supply store, but they may not be the best out there.  In the case of paper products (folders, boxes, interleaving sheets, etc.), you want to look for items that are clearly labeled as "acid and lignin free" (lignin is an organic compound found in wood that can speed deterioration of materials it comes in contact with).  It is always important to purchase supplies from reputable companies.  You can find them online by doing a search for "archival supplies".
In looking at the images you sent, it seems that the letters are in decent condition.  From a preservation standpoint, my immediate concerns would be the jagged edges and small holes in the documents, which can easily get snagged on another piece of paper or on clothing, potentially damaging the items further.  To prevent this, I would recommend taking the additional step of storing the particularly fragile items in Mylar, which is a thin, inert plastic, manufactured into a form that creates page protectors.  You should place one document in each sleeve of Mylar.  Because it's clear, you will be able to read the documents while keeping them nice and safe. Once they're in their plastic sleeves, you can place them into folders just like all of the other documents.
Mylar can be expensive, but don't be tempted to use the more economical page protectors that you find at the office supply store.  The plastics they are made from can give off chemicals that can speed up deterioration of your letters. Depending on the manufacturer, Mylar can be sold under a variety of names.  You can also try looking for either polyester or polypropylene.  Just be sure that the description indicates that the plastic is chemically inert.
Once all of the documents have been placed into folders, you can place the folders into archival boxes.  The boxes should be full enough that the folders do not fall over or flop around when moved, but also not so full that the box bulges.  Manufactures sell boxes in a multitude of shapes and sizes, so you should easily be able to find something appropriate for your collections.  I would begin your search by looking for "document boxes" or "document cases".
If you are visiting the library for research, our 1792 Store on the first floor also sells kits to get you started preserving your documents.
Have a question about how to preserve your family documents, photographs and antiques?  Contact us with your questions at khsrefdesk@ky.gov!
---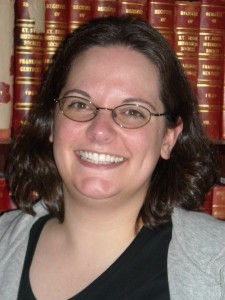 About the Author: 
Jennifer Duplaga is the Special Collections Administrator at KHS, where she cares for the manuscript and photographic collections. Jennifer has a B. A. in German Literature and a B. A. in History from Wittenberg University in Springfield, OH. She received a Master of Library Science and a Master of Arts in History from Indiana University-Purdue University in Indianapolis. She joined the staff of the Kentucky Historical Society in 2005.
After realizing what occurred free sample simply need to keep in mind that the that nix want revise.