By:  Jeff Jones, Ph.D., Georgia Southern University
 "Here in Henry Clay's apple orchard where a refugee from the French Revolution's guillotines taught a young Mary Todd Lincoln, more than 900 'Kenwicked' households continue to create new stories and cherish their own old Kentucky homes."
The lives of every Kentuckian take place in the beautiful and diverse Commonwealth. With the state's long history, Kentucky's neighborhoods often have a story to tell.  Such is the case with Kenwick, a Lexington suburb founded in 1909 but with a history going back centuries.  Having lived for 15 years in Kenwick and nearly a quarter century in Lexington, I am pleased to relate Kenwick's story to you.
Kenwick and Henry Clay:  While the Lexington area was first settled by various Native American groups such as the Adena and later Shawnee, this particular history focuses on the Kenwick area's history starting with Lexington's founding.  When Lexington's street grid was laid out around 1790, the Kenwick area was a rural part of Fayette County southeast of the city's border which was then along today's Rose Street.  Kenwick's story begins in 1797 when a young Virginian lawyer named Henry Clay moved to Lexington to set up his legal practice.  Within two years Clay not only had a thriving legal business but also had snared himself a wife in the person of Lucretia Hart, his lifelong love.1  Hart was herself a young woman from a prominent Kentucky pioneer family, and it was her father who financially helped the young couple buy over 300 acres on Old Boonesborough Road.  Henry Clay named the farm Ashland for the number of ash trees on the property, and eventually the farm grew to become a full-fledged estate with a manor house and 600 acres that included today's Kenwick.2  Local neighborhood legend tells that a portion of Kenwick was in fact Henry and Lucretia's apple orchard.
Besides lawsuits and apples, the Clays prospered from other agricultural and financial investments including income from road tolls.  They owned the portion of Old Boonesborough Road that ran through their property.  This road led down to the Kentucky River and Boonesborough, Daniel Boone's original pioneer settlement.  By Clay's time, Boonesborough had become a backwater historic site, but the nearby town of Richmond was booming.  Thus, Richmond Road soon elbowed Boonesborough Road off the street signs, and the name has stuck to this day.  Today Henry Clay's estate of Ashland sits in a park-like setting on Richmond Road in Lexington.
Clay never quite became U.S. president, but he did engineer the Missouri Compromise, his greatest claim to fame.  Abraham Lincoln also pointed to Clay as his political role model.3  The mansion at Ashland also is not quite his house either.  After Clay's death, his son tore down the original house and rebuilt a finer home on the old foundation.  This newer mansion is the one open to tourists today.  The grounds attract Kenwick neighbors who walk their dogs, play Frisbee, and take a nice evening stroll there.  Don't miss the formal English gardens hidden behind brick walls.
Ellerslie:  At some point prior to 1837, the Clays sold the area that would become Kenwick.  It eventually became part of the Ellerslie estate and would remain so for almost a century.  Although Ellerslie's manor house now rests as bits of rubble under the Richmond Road Home Depot and new Southland Christian Church, the Ellerslie estate had a rich history in its day.  Ten years before Henry Clay even moved to Lexington, General Levi Todd, a veteran of the Battle of Blue Licks and Mary Todd Lincoln's grandfather, built the manor house as his family's home.   Todd named the house after Ellerslie, Todd's ancestral home in Scotland and the birthplace of the Sir William Wallace.4  The film Braveheart romantically portrays Wallace.
Eventually the estate passed to a real estate investor and finally in 1819 to Robert Old Duke Wickliffe, a Pennsylvania transplant who purchased the farm and expanded the house.   Nicknamed the Old Duke for his regal bearing, Robert and his wife Margaretta had a large family.  In 1825, however, tragedy struck, and Margaretta died.
Within a year, however, the Old Duke married his second wife, the wealthy widow Mary Owen Polly Todd Russell.  Polly Todd ironically was the niece of Ellerslie's original builder, Levi Todd, and was also the heiress to thousands of acres of Kentucky land inherited from her father.  The two were an unlikely pair in that the Old Duke was Kentucky's largest slave-owner, and Mrs. Polly —as she was nicknamed— supported emancipation.5  It was Mrs. Polly's influence and support that helped her former slaves, Milly Crawford and her son Alfred, to colonize Liberia, a west African country settled in part by former American slaves.6  Alfred, rumored to be Mrs. Polly's biracial grandson, went on to become the seventh president of Liberia.7,8
Among Mrs. Polly's friends was Madame Charlotte Mentelle.  Charlotte and her husband Waldemare were educated and patrician refugees from the French Revolution who had settled in Lexington.  In 1839 Polly gave the couple land where they built Rose Hill, a gingerbread house now at 116 Lincoln Avenue, for their use during their lifetimes.4  By agreement, the property would revert to the Wickliffe estate upon the Mentelles' deaths.  Here Madame Mentelle educated a young Mary Todd (later Lincoln) in social skills, dancing, academics, and conversational French.  Madame Mentelle would also regale her students with tales of being chased by revolutionary mobs and of her stern father who taught her to not fear death by locking her in a room with a corpse.9  The Mentelle's daughter Marie would eventually marry Henry Clay's son Thomas.4
After Polly's death, a decade-long legal battle pitted Old Duke Wickliffe against Polly's siblings for control of the Todd estates.  Wickliffe won and passed the Ellerslie farm down to his daughter Margaret, the wife by that time of William Preston.  Like Margaret Wickliffe, Preston was from a prominent Lexington family and was related to the Wickliffes.  Under President Buchanan, he served as the American ambassador to Spain.  When the Civil War broke out, Preston sided with the Confederacy and became a Confederate Army general.  With the Confederacy in defeat, Gen. William Preston and his family fled to self-exile in Canada until 1867.  Unlike other slave-owning states, Kentucky never left the union and thus did not come under direct Union military control during Reconstruction.  This situation left many pro-Confederate elite families like the Prestons with their wealth and power intact.8
In 1860 Charlotte Mentelle had died.  The Mentelle house had reverted back to the Wickliffe estate, and after the Civil War General Preston decided to settle his former slave Peter Thompson and the Thompson family in the house.  In January 1871 men identifying themselves as members of the Ku Klux Klan murdered Thompson out of anger that an African American family had housing while poor whites did not.  The local KKK, however, condemned the murder in a letter to a local paper and declared they would revenge themselves upon any whites who committed such acts in the group's name.8
By 1877 the Prestons had rented the present-day Kenwick area to B. J. Treacy.  Mr. Treacy established the Ashland Park Stock Farm with the purpose of raising thoroughbred horses.  When President Chester Arthur visited Lexington in 1883, he had tea at Ashland and then toured the Farm.5
Kenwick Is Born:  Margaret Wickliffe Preston outlived her husband, but died herself in 1898.  Her will stipulated that the Ellerslie farm could not be divided among her heirs.  Instead she left it jointly to her three children in equal shares.   In 1903 the heirs were successfully able to contest the will and divide Ellerslie.  They soon began the division of the property into residential lots.  In 1906 Mentelle Park was born as the first subdivision carved out of the Ellerslie estate.  On May 11, 1909, Kenwick was born as new streets and lots were carved out of the former Wickliffe lands.  Within a few decades the farmland would be transformed into some of Lexington's earliest suburbs and pass hands from a single wealthy estate to hundreds of middle and working class families.5
The May 15, 1909, Lexington Herald records that S. T. Swift offered the name of Kenwick for the new development.  The origin of the name is unclear.  The area may have been named for Kenwick Hall, a famous Georgian estate in eastern England's Lincolnshire.  Another story says the name is a compound of Ken (for Kentucky) plus wick (for Old Duke Wickliffe).10 Originally the neighborhood consisted of six subdivisions built between 1909 and 1920.  With names such as Belldale, Beechland, and Crescent Hill, these subdivisions were originally designed to be elite neighborhoods.  The early deeds stipulated that the lots could not be owned by an African American and that liquor could not be sold on any of the properties.  Such racial covenant stipulations were sadly common during this period of Jim Crow laws.  Later additions, however, favored homes for working class whites in the areas of the neighborhood closer to the C & O Railroad tracks and industrial areas along Mary (now National) and Delaware Streets. By 1919 lots in the neighborhood were selling for $14 per front foot.11
By 1920 the neighborhood street system was largely in place.  In 1904 the landscape architectural firm of Frederick Olmstead —who designed New York's Central Park— began laying out the Ashland Park development across from Kenwick.  Olmstead designed Ashland Park as an upscale neighborhood carved out of the Ashland estate.12  In 1933 Kenwick's neighbor to the east, the Fairway neighborhood, was established.  Fairway's opening completed Kenwick's current boundaries.13
Kenwick School:  Julia R. Ewan Elementary also has its roots in the early 20th century.  Opening in 1909 as the Kenwick School, it was located in a rented house at 193 Sherman Avenue by 1924.  Julia Rice Ewan became the school's principal and math teacher in that year and remained principal for 39 years.  Concerned by the large number of poor white children —Fayette County schools were then racially segregated— Ewan began to offer hot meals to the children.  In 1930 she also established the Kenwick Junior Garden Club, a program to teach children and parents to grow their own vegetables at the school.   In 1936 Fayette County received $150,036 in the midst of the Great Depression to build eight school projects and employee 282 people.  The largest of these projects was the construction of the 15-room Kenwick Elementary School (later Julia R. Ewan Elementary) on Henry Clay Boulevard.  The new WPA-built (Works Projects Administration) school replaced the older structure on Sherman Avenue.  Mrs. Ewan retired in 1963, and the school was then renamed Julia R. Ewan Elementary in her honor.  In 2008 the school closed when its students were integrated into the new Liberty Elementary.14  The building was then sold and re-opened as the Lexington Speech and Hearing Center.
Kenwick Grows Into a Community:  Throughout the neighborhood during the 1930s, individuals bought and assembled a number of Craftsman-style bungalows.  These houses were often purchased through the Sears and Roebuck Company and included detailed do-it-yourself plans and construction materials.  It was left up to the builder to purchase bricks, windows, plumbing, and heating systems either from Sears or separately.  Not all the Sears homes in Kenwick have yet been identified.
Today Kenwick's identity as a neighborhood is linked to its bungalow homes as evidenced by the neighborhood's annual bungalow home tour.10  Yet almost all the bungalow homes are found in the first blocks off Richmond Road and represent a wave of construction that suddenly stopped with the Great Depression.  The second and third blocks consist mostly of later homes built in other styles after the Depression.
The post-war years through the early 1970s are remarkably quiet ones in Kenwick's historical records.  In 1974 Kenwick was an island of county jurisdiction surrounded by properties within the city's boundaries.  As a result it lacked many essential city services such as sewers, sidewalks, and street lights.  There were actually outhouses in Kenwick, and the neighborhood was dependent on septic tanks.
Kenwick Neighborhood Association:  In 1974, however, the City of Lexington and Fayette County merged into a single unified government, the Lexington-Fayette Urban County Government (LFUCG).  In that same year Kenwick resident Jay Hess organized the Kenwick Neighborhood Association (KNA).  The KNA organized clean-up projects and a youth recreational program that helped drop Kenwick's youth probation rate from one of the highest in Lexington to near zero.  Hess and the KNA also successfully pushed the city to spend $5 million in Federal block grant dollars to upgrade Kenwick with sewers and sidewalks between 1974 and 1976.15
Lured by its close proximity to the University of Kentucky and downtown as well as relatively inexpensive housing, an eclectic mix of young professionals, UK employees, and others began to move into the neighborhood starting in the 1980s. By the 1990s and into the present, the area continues to gentrify.  Kenwick remains a diverse neighborhood that "runs from the million dollar homes on Richmond Road to the train tracks in three blocks" as one resident has described it.  Unlike many places in Kentucky, its history remains accessible thanks to historic maps and documents.  Here in Henry Clay's apple orchard where a refugee from the French Revolution's guillotines taught a young Mary Todd Lincoln, more than 900 'Kenwicked' households continue to create new stories and cherish their own old Kentucky homes.
---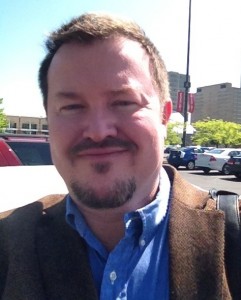 About the Author: 
Jeff Jones, Ph.D., is an Assistant Professor of Health Policy and Management at the Jiann-Ping Hsu College of Public Health at Georgia Southern University.  His health research includes a focus on communities, their histories, and development of health infrastructure.  Prior to moving to Georgia, Dr. Jones lived in Lexington, KY, for 24 years and was a resident of the Kenwick neighborhood for 15 years.  He also served as a past president of the Kenwick Neighborhood Association.
---
References
            Clark T. Biographical Sketch.  http://henryclay.org/?page_id=367. Accessed March 20, 2014, 2014.
            Society KH. Kentucky's Abraham Lincoln. 2010; http://archive.constantcontact.com/fs017/1101092730388/archive/1101968106528.html. Accessed March 20, 2014, 2014.
            Lincoln A. Collected Works of Abraham Lincoln. Vol 3. New Brunswick, NJ: Rutgers University Press; 1953.
            Baker JH. Mary Todd Lincoln:  A Biography. New York: W.W. Norton and Company; 2008.
            Hollingsworth R. Property Owned by Margaret Wickliffe Preston (1819-1898), of Kentucky. 1999; http://www.uky.edu/~dolph/scraps/ellerslie.html. Accessed March 21, 2014.
            Archives UoKSCa.  http://www.uky.edu/~dolph/scraps/liberia.html. Accessed March 20, 2014, 2014.
            Hollingsworth R. "Mrs. Boone, I presume?"  In Search of the Idea of Womanhood in Kentucky's Early Years. In: Klotter JC, Rowland D, eds. Bluegrass Renaissance:  The History and Culture of Central Kentucky, 1792-1852. Lexington, KY: University of Kentucky Press; 2012:93-131.
            Hollingsworth R. Lexington:  Queen of the Bluegrass. Charleston, SC: Arcadia Publishing; 2004.
            Obituary:  Charlotte Victorie Le Clere Mentelle. Kentucky Statesman. September 14, 1860.
          Ward K. 'This Old House' honors Lexington's Kenwick neighborhood. Lexington Herald-Leader. September 24, 2013.
          Hollingsworth R. She Used Her Power Lightly:  A Political History of Margaret Wickliffe Preston of Kentucky. Lexington, KY: History, University of Kentucky; 1999.
          Schein RH. The place of landscape: a conceptual framework for interpreting an American scene. Annals of the Association of American Geographers. 1997;87(4):660-680.
          Boulton A. PROPERTY AND AESTHETICS IN AN ORDINARY AMERICAN LANDSCAPE*. Geographical Review. 2011;101(2):224-242.
          Julia R. Ewan Elementary School. 2014; http://lexhistory.org/wikilex/julia-r-ewan-elementary-school. Accessed April 15, 2014.
          Jones J. History of Kenwick. 2014; http://www.kenwick.org/sample-page/history/. Accessed April 15, 2014.
free sample merely need to keep in mind that the that nothing desire alter.