By: Christopher L. Starr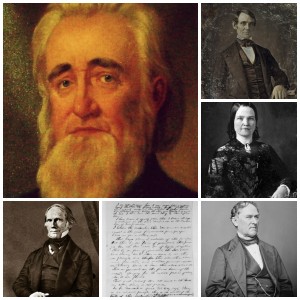 I have yet to meet a genealogist that did not have at least one amazing story to share about the unexpected path that their research took.  As my own research progressed, this native New Englander was very surprised by the western turn made by my family. It actually became something of a circle, as they eventually made their way back to Vermont and Massachusetts years later. But the story that accompanies their migratory circle changed my life in complex ways. I also discovered family and social relationships that connected to Abraham and Mary Todd Lincoln, the famed racehorse Lexington, Henry Clay, and a host of other prominent Kentuckians that had influenced their home state as well as the next states in their migration. These discoveries paint an amazing picture of Kentucky migration and influence of the bluegrass on the continuing westward expansion. My research has also allowed me to continue the story of my ancestors as I assist in the preservation efforts of an ancestral home in Central Kentucky.
My interest in genealogy started many years ago as a kid when my Mother decided she wanted to be a member of the Daughters of the American Revolution (DAR).  She had heard the family lore about some of our ancestors participating in the Revolutionary War, but had to prove the necessary lineage to gain membership. Of course, things looked much more difficult back then, pre-internet, when my Mother's research came solely from libraries and government offices.
Decades later, I picked up the old hand-drafted, fan shaped, family tree, leafed through its accompanying scrap book, and set to work to add more branches.  I bought an edition of Family Tree Maker Software, replicated my Mother's hand-written tree in it and ventured onto the internet. With unrealistic expectations, I utilized a number of websites, both free and subscription based.  Each addition came with its own satisfaction, but as the tree's growth rate started to slow down, and as I looked at the cold, lifeless, virtual tree, I began asking questions about the lives behind the names…. Who were these people?  What did they do?  How did they live?  Were they a significant part of history?
With stars in my eyes and a deep seated belief that I was descended from some kind of royalty, politician or famous adventurer, I set forth into cyberspace to uncover the secret details of my family's deep past.  Of course, I kept reminding myself that most of us come from normal people that lived in normal places where the most interesting thing that someone might have to say in a person's obit is that they had a fondness for pot roast and ate it every Sunday.  Nothing more ordinary, to a snobby Massachusetts guy, could have validated that ordinary people/places fear than the fact that many of my historic family roots wove their way to Kentucky… an ordinary place full of ordinary people with ordinary stories to tell…. Or so I thought.  Nothing could have been further from the truth.
Ironically, it was the internet that directed my next area of research focus. As I exhausted the typical vital/census records, I took a little detour to research some of the family line that had been documented thus far – in particular, the branch descended from my maternal Grandfather: Charles Kinney Smith. In order to learn more about the lives behind the names in this line, I left the standard genealogy websites behind and start looking at regionally specific archives that have unique online collections available. For the most part, these resources are free, and contain histories published decades or even centuries ago. A few of the resources I used heavily included University Archives, the Internet Archive and Google Books. As scanned or transcribed editions of historical resources, the contents proved to provide exactly what I was looking for – more answers to my "life" questions.
Through Grandpa Smith's line, I began to research the life story of Colonel William Brown. He was a well documented individual in our tree, and let's face it, a "Colonel" looked promising when hoping to find a story behind the name. There was also the added impetus, of ancestor stalking. It just so happened that the Colonel was always looking over my shoulder as I searched. His painting hangs behind me in my office, sternly drilling those eyes into me, urging my research forward.
As it turns out, the Colonel was a man of significant means and dedicated to public service –a veteran of the War of 1812, a widely respected attorney throughout the region and a U.S. Congressman serving with Henry Clay and Thomas J. Metcalfe – during the 16th Congress, famous for the Missouri Compromise. There was also a connection to the Todd and the Warfield families that came through the Colonel's wife and matriarch of the Brown family, Harriet Warfield of Lexington. The Warfield and Todd families were neighbors in Lexington, and Harriet's brother, Dr. Elisha Warfield was a very close friend of Mary's father, Robert Smith Todd. In fact, Dr. Warfield was one of the doctors called upon to deliver Mary Todd Lincoln in 1818.[ii] It was also Dr. Warfield who raised and raced 'Lexington' one the most illustrious race horses to grace the rolling hills of Kentucky's bluegrass. Even today, driving through downtown Lexington, you will see banners containing the painting of a blue horse which happens to be the very same 'Lexington' raised by the Warfields and the sire of many of today's thoroughbred lines. 'Lexington' was so well revered at the time that President Lincoln was known to have ridden a Lexington-sired horse, being the favorite horse in his stable.  When Lexington died, his bones were provided to the Smithsonian Institute in Washington, D.C., where they resided until 2010 when they were returned to Kentucky and are currently on display at the Kentucky Horse Park.[iii]
The Colonel and Harriet made their home just a little farther north in Cynthiana, Harrison County. Originally from Virginia, Colonel William Brown came to Kentucky with his father James Nicholas Brown as they settled in Bourbon County. By 1795, the Colonel was in Cynthiana, and by 1816, he had acquired a large farm one half mile north of the city, overlooking the Licking River valley. Between 1817 and 1818, a house was built on the highest hill of his property, along Flat Run Creek, which he named "Ridgeway." This house still stands and was placed on the National Register of Historic Homes in 2005.[iv] Sadly, years of neglect have damaged the shell to a degree, but the fight to save this house from demolition is on-going.[v] This is how my internet connections put me in contact with the local effort to save this wonderful home and I have greatly enjoyed the process of working with city and county officials to find a solution that will give the house a new future as a much needed Community Center and event space.
During my research, I also came face to face with the fact that the Colonel was a slave owner. By 1820, the tax records indicate he had at least 14 slaves, with later years increasing that total to 27.[vi] By 1830, the Colonel and his family decided to make a drastic change. Like his friend and fellow Congressman, Henry Clay, the Colonel felt that, despite his personal involvement, slavery was an abhorrent, unconscionable practice.  He eventually put his words into action and personally brought six of his slaves to the free state of Illinois to free them in 1831, decades before the Emancipation Proclamation signed in 1863. Out of their free will and gratitude, these ex-slaves, worked for their former master – the Colonel – after he moved to Illinois and serving him until the day he died. Sadly, the Colonel only lived a few more years without fully finishing his own emancipation goal.[vii]
In the early 1830s when many of these illustrious Kentucky families were migrating to Illinois, the Colonel, his son, James N. Brown, his son-in-law James D. Smith, and his nephew Orville Hickman Browning purchased large tracts of land to farm in Sangamon County, Illinois, which at the time was undeveloped frontier. This type of move was common for many Kentucky families at the time. After the War of 1812, Veterans received land in neighboring states, such as Arkansas, Missouri, and Illinois, which contributed greatly to the overall westward expansion. By 1860, the number of Illinois residents originally born in Kentucky numbered 60,193.[viii]
Not long after their move to Illinois, three of the Brown family men fought in the Black Hawk War, within the same unit as Abraham Lincoln. As they were heading home, Abraham accompanied them back to the new Brown land, and helped them clear the land. Everyone quickly found that Abraham Lincoln was opinionated and loved to argue the issues of the day with James and those around him. Ironically, the men Abraham Lincoln would have been working alongside consisted of a diverse workforce: not only the male members of the Brown/Browning family, but also the newly freed slaves from Ridgeway. When visualizing this work taking place: the young Abraham Lincoln conversing with these newly freed slaves from Kentucky, where might their conversations have led? Did the former enslaved men of Ridgeway influence Lincoln's view of slavery in any way?
As a successful attorney, James became a very close friend and confidante of Lincoln.  Eventually, Lincoln also entered the Illinois legislature and the two law-makers corresponded throughout their careers on diverse topics, particular slavery.  At one point, Lincoln compiled a scrapbook of his own political writings on slavery and gave it to James as a gift. But even more remarkably, many historians and history books quote a letter sent from Abraham Lincoln to James, on Oct. 18. 1858. This letter, written by Lincoln, when he was on the presidential campaign trail, still stands as a prominent representation of Lincoln's fundamental stance on slavery and racial inequality.  In this letter, he states:
"I believe the [Declaration of Independence] that "all men are created equal" is the great fundamental principle upon which our free institutions rest; that [African American] slavery is violative of that principle."[ix]
Throughout the remainder of the letter he proceeds to state that the government has an obligation to free the slaves and suggests that the people, regardless of race, should be treated equally under the law.  It is clear from this letter that Lincoln shared his deepest personal feelings to James, and after Lincoln was assassinated, James would be bestowed the honor of pallbearer at Lincoln's funeral, personally selected by Mary Todd Lincoln.
Orville Hickman Browning was also a native Cynthiana boy and Colonel William Brown's nephew. As the Colonel's legal protégé, he "read the law" with the Colonel up at Ridgeway and was sent by the Colonel ahead of the rest of the family to Illinois as the land purchases were being arranged. This meant Orville was also drawn in the nearby conflict, serving alongside his cousins and Lincoln during the Black Hawk War. Orville took with him the Colonel's strong viewpoint against slavery and once he met the radical young Abraham Lincoln he knew that he had met a kindred spirit as they became close life-long friends and political allies.  Orville rapidly rose in the political ranks to the state legislature and then to the U.S. Senate.  Lincoln's and Orville's political philosophies were so well matched that they created a new political party together in Illinois – the Republican Party.
According to many historical sources, including Orville's much referred to personal diary, Orville was also was a valued advisor of Lincoln's.  In crisis, Lincoln would seek Orville's advice particularly on issues relating to their mutual native state of Kentucky.  This could not have been more apparent when Lincoln wrote Orville as he was distraught about General Fremont's radical and unauthorized edict where he attempted to impose martial law on the state of Missouri and ordered all slaves in the state to be set free. The upset Lincoln wrote to Orville on September 22, 1861:
"I think to lose Kentucky is nearly the same as to lose the whole game. Kentucky gone, we can not hold Missouri, nor, as I think, Maryland. These all against us, and the job on our hands is too large for us. We would as well consent to separation at once, including the surrender of this capitol."[x]
Lincoln and Browning's friendship continued to remain strong throughout Lincoln's life. When Abraham and Mary's son, Willie, died in the White House, Lincoln summoned Orville and his wife Eliza (a Richmond, KY native) to comfort Mary and see to the funeral arrangements.[xi] By the end of Orville's career, he arose to the Presidential Cabinet and served as the Secretary of Interior and U.S. Attorney General under President Andrew Johnson.[xii]
Beyond these amazing examples of Kentucky connections maintained after westward migration, James had another claim to Kentucky fame that influenced the agricultural direction of Illinois. As the first President of the Illinois Agricultural Society, he is credited with bringing Kentucky bluegrass and cattle to Illinois. It was even reported that he drove short horn cattle 400 miles from Cynthiana Kentucky to Sangamon County Illinois.[xiii]
One common thread when documenting the migration trails of my Kentucky ancestors was their strong connection to their state of origin. The contemporary histories and biographies found written about them always made a point of mentioning their Kentucky roots and its influence upon their future successes. My research is by no means finished, and I eagerly anticipate the rest of the story. But one thing remains clear, finding and reconnecting with my Kentucky roots has enriched the story beyond my wildest imaginings.
---
Christopher L. Starr is Co-Founder and CEO of Pastology.com, and Managing Principal at Smith Legacy Partners. He also serves on the Board of Directors for the Harrison County Heritage Council, and was a speaker at RootsTech in 2012. Mr. Starr has served as a former consultant for several Fortune 500 companies, including GE, Mobil, Borden and Texas Instruments and has a Master of Science from Tufts University. He resides with his wife and son in Acton, Massachusetts.
---
"Brown, William (1779-1833)," Biographical Directory of the United States Congress, United States Senate Historical Office, accessed January 31, 2015, http://bioguide.congress.gov/scripts/biodisplay.pl?index=B000947 .
[ii] Jennifer Fleischner, Mrs. Lincoln and Mrs. Keckley (New York: Broadway Books, 2003), 21-22.
[iii] Cara Seitchek, "National Museum of Natural History Loans Skeleton of Racehorse Lexington," The Affiliate: News About Smithsonian Affiliations, (Fall 2010): 1-2, accessed January 31, 2015,  http://affiliations.si.edu/images/forms/newsletter_fall_2010.pdf.
[iv] "Registration: Handy House," National Register of Historic Places, Registration Form, (Washington D.C.: United States Department of the Interior, National Park Service, 2005).
[v] Greg Kocher, "Last-ditch attempt made to save historic house from demolition in Harrison County" Lexington Herald-Leader, (November 23, 2014): accessed January 31, 2015. http://www.kentucky.com/2014/11/23/3556080_last-ditch-attempt-made-to-save.html?sp=/99/131/&rh=1.
[vi] Harrison County, "Tax Records," Tax books of Kentucky counties, Harrison County and Hart County, 1819-1875, (Frankfort: Kentucky Historical Society) 1820-1830.
[vii] Clinton L. Conkling, "James Nicholas Brown in Public Life." Transactions of the Illinois State Historical Society for the Year 1914, (Illinois: 1914): 180-186.
[viii] William O. Lynch, "The Westward Flow of Southern Colonists before 1861." The Journal of Southern History 9 (1943): 303-327.
[ix] Abraham Lincoln, 1953. "Letter to James N. Brown 1858," Collected works. The Abraham Lincoln Association, Springfield, Illinois, ed. Roy P. Basler (New Brunswick: Rutgers University Press) 4. http://name.umdl.umich.edu/lincoln4 .
[x] Abraham Lincoln, 1953. "Letter to Orville Hickman Browning, 1861," Collected works. The Abraham Lincoln Association, Springfield, Illinois, ed. Roy P. Basler (New Brunswick: Rutgers University Press) 5. http://name.umdl.umich.edu/lincoln5 .
[xi] Fleischner, Mrs. Lincoln and Mrs. Keckley, 230-231.
[xii] "Browning, Orville Hickman (1806-1881)," Biographical Directory of the United States Congress, United States Senate Historical Office, accessed January 31, 2015, http://bioguide.congress.gov/scripts/biodisplay.pl?index=b000960 .
[xiii] University of Illinois, College of Agriculture, "Proceedings Attending the Admission of the Name of James Nicholas Brown to the Illinois' Farmers' Hall of Fame, 1911," Transactions of the Illinois State Historical Society for the Year 1914, (Illinois: 1914): 161-192.
free sample merely need to remember that the that nil want alter.