By: Cheri Daniels, KAO Editor and KHS Head of Reference Services
What if it were possible to go back in time 70+ years and ask your living relatives about their memories, known ancestors, and family origins? For many in the Northern part of the state, this could be a real possibility. I'm not talking about time travel per se, but rather, a collection of family nuggets so juicy, you couldn't help but treasure them forever.  Let me introduce you to the E.E. Barton Papers of Northern Kentucky.
The E.E. Barton Papers Collection of Northern Kentucky has predominantly been looked upon as a Pendleton County Kentucky resource. However, the span of documentation included in this collection encompasses various subjects, familial lines and regional areas that go well beyond this one county. With over two thousand surnames documented in the official file listing, this unique resource should be a staple when researching families along the Ohio River between Cincinnati and Maysville, and as far south as Bourbon and Fayette Counties in Kentucky.
This unique collection was the genius of Edward Everett Barton and created in the 1930s and 40s through extensive interviews, historic research, and correspondence. At the heart of this collection lie thousands of pages of family group sheets completed during interviews or volunteer submissions. As a supplement to the family group sheets, Mr. Barton also transcribed courthouse records, local histories, cemetery inventories and local legends. His organization system was both subject and surname based. The official surname file count numbers over two thousand. However, through the various lines of family records, not grouped by official file designation, the reach of migration and common ancestry spreads throughout the tri-state area and beyond.
E.E. Barton was an attorney, Kentucky State Representative, local historian and farmer. He spent many years seeking out the family histories of Pendleton County, but also managed to include general histories of Kentucky, neighboring counties, pioneer settlements, immigrant and Freedmen Communities. Throughout his family history compilation he not only accepted reports from family members, but pursued lines of clarification through extensive correspondence that included intuitive follow-up questions. Despite a lack of photographic images within the Barton Papers, he often asked about the photos of ancestors. Correspondence suggests he borrowed photos on many occasions and then returned them to the family, followed by notations concerning which branch of the family owned the aforementioned photos. In this way, he left an heirloom record that allows us to learn about methods of heirloom retention and transference.
Within my own family, the E.E. Barton Papers have proven to be an invaluable window into the past. I feel very privileged that my Mother's family were early settlers of Pendleton and Bracken Counties, and remained there for many generations. However, the only requirement for your family to possibly be connected to these Papers is any family member's residence (even distant cousin) in the area during the 1930s or 40s. One of the key components of Mr. Barton's interviews was the family group sheet. He insisted interviewees fill out these sheets to the best of their ability, including marriages and cities of migration/relocation, for multiple generations.
One of my favorite treasures from this resource is the questionnaire addressed to my great grandparents. Mr. Barton took the time to type out specific questions that he wanted to know about the family. Questions I would have asked had I been born and able to ask. The questionnaire has been lovingly filled out in my great grandmother's hand, with the information being provided by my great great grandmother, Oleva Ellen Mockbee Cox, whom I never had the opportunity to meet. The form was filled out in 1943, ten years before Oleva died.
To demonstrate the potential reach of one family file, I will use the Allender surname. On the surface, this is pretty straight forward. It begins as many of the family files do: with transcribed local records – usually marriages, listed by bride and then groom. The next series of papers includes family group sheets from various branches of the family. Mr. Barton was very cognizant of the family branches and how they related. Often, the related branches are clustered together. Those of a different branch are placed in a different area of the file, or given another file altogether. In between each family group sheet, a piece of correspondence or court record might be found.
Within the Allender Family file, that common arrangement resulted in the following: 124 pages inside the file, over 200 additional surnames mentioned, family members connected to 12 additional Kentucky Counties, family members connected to 7 additional States, and family members connected to 3 additional countries. This is why the Barton Papers can be a great resource for busting through migration brick walls. You never know who might be found in the extensive reach provided by the interviewees.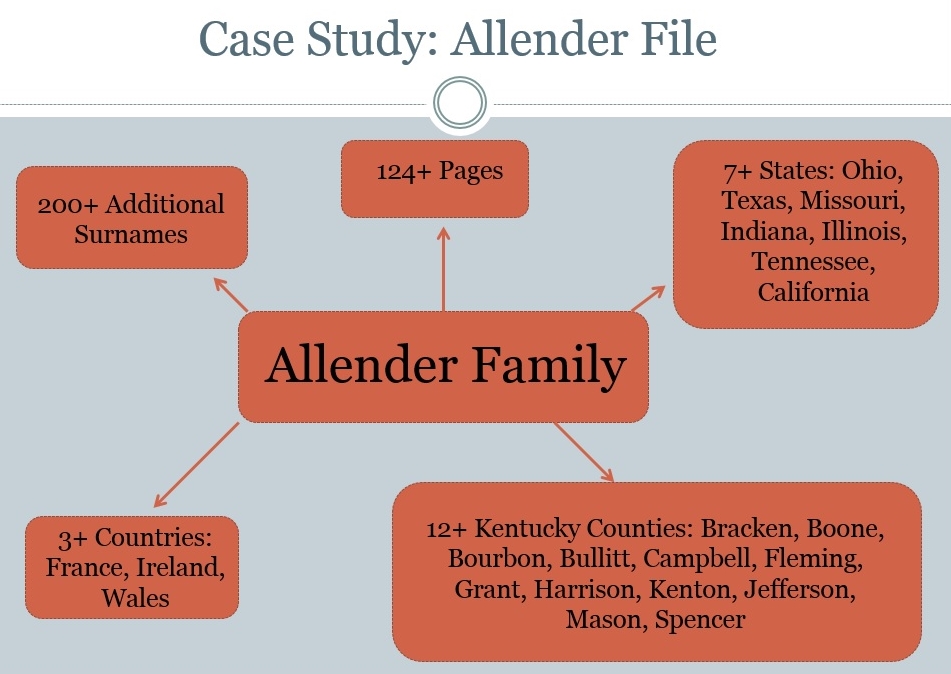 Accessibility:
The E.E. Barton Papers have remained in Pendleton County where they were created, with some exceptions during microfilming and damage repair after the 1997 flood. Luckily, with the conservation efforts after the 1997 flood, the papers were once again filmed, this time in digital format. In fact, some of the new digital images contain evidence of the flood, in the form of rippled pages. Despite the effort to digitize the pages, the most accessible format is still microfilm within local repositories. This microfilmed version of the papers takes up almost 100 reels and can be found in regional libraries such as: Pendleton County Public Library, Cynthiana-Harrison County Public Library, Kentucky Historical Society, University of Kentucky.
The new digital images are available on CD for purchase through the Pendleton County Historical and Genealogical Society. When ordering, just make sure you look closely at the order form inventory. The index for microfilm is different than the one for digital images. There is also a big difference with the digital version: much greater clarity! The only caveat with the digital images is a couple of frames of image quality – I have found a couple of page errors, such as the one below, but these are very few and far between. If you happen to get an image like this, hunt down the microfilm and print out the missing page. Despite this rare flaw in the digital images, I would still recommend purchasing the discs you need. They are wonderful and much easier on the eyes!
Reliability:
Let's take a moment to talk about this kind of resource. How reliable are these sheets, and how should they be cited? Citing them should not be hard as they are an official collection housed in several libraries, which is the version I would cite for posterity. You could make a note about owning or accessing a digital copy, but leading future researchers to a permanent holding is preferred. As for reliability, these should be regarded in the same manner as any oral interview, family Bible, or family group sheet produced by a family member. In some cases, Mr. Barton was asking a person about himself/herself. While this would constitute primary information in my book, when they start answering questions about ancestors, it falls into secondary territory. There are times when neighbors, who happen to be distant relatives, will fill out the same questionnaire about an ancestor – which results in contradictory information being provided.  However, I personally adore the family trails and tales provided in this collection! I have discovered invaluable research leads and been gifted with a window into my family's past. With that being said, no genealogy research can rest on the basis of one resource. As with everything else, back up what you learn through the Barton Papers with multiple sources of documentary evidence.
For more information:
The E.E. Barton Papers are available on microfilm at the Kentucky Historical Society, complete with paper index*. Just visit the Martin F. Schmidt Research Library and ask about them at the Reference Desk.
Surname file index* available free online via Rootsweb (Names correspond to the microfilm reel numbers): http://www.rootsweb.ancestry.com/~kypendle/Pages/bartonintro.htm
Pendleton County Historical & Genealogical Society CD-ROM version available for purchase via their web site:
http://www.rootsweb.ancestry.com/~kypendle/Pages/pchs.htm
Direct link to the PCHGS CD order form/index*: http://www.rootsweb.ancestry.com/~kypendle/Pages/bookCdForm-PCHS.htm
Download the special Barton Papers CD order form and file list here: Barton Index and Order Form

*Either index provided relates to the file list only – there is no cross reference index available for the E.E. Barton Papers.
Record Types included:
Marriage Rolls
Family Group Sheets
Transcribed Court Documents: Deeds, Probate, Divorces, Civil Cases, Tax/Land Records
Correspondence
Local Histories
Community traditions/stories
Church Histories
Slave records/Emancipation Cases
Naturalization
IOOF Memberships
WPA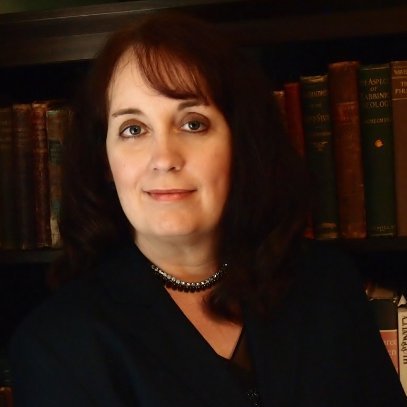 About the Author: Cheri Daniels is the Head of Reference Services for the Martin F. Schmidt Research Library and Editor of Kentucky Ancestors Online at the Kentucky Historical Society. She holds a B.A. in History and an M.S. in Library Science, both from the University of Kentucky. For over 25 years she has worked in various types of libraries, including 11 years at the University of Kentucky, and pursued her genealogical passion through her own research along the way. Other roles include: KLA Genealogy/Local History Round Table Chair, DAR Member, PR Director for the Harrison County Heritage Council, blogger at Journeys Past, Co-founder/President of Pastology, LLC, and speaker on the regional/national stage (NGS Conference: 2012/2014, NPR/WEKU: 2013, RootsTech Conference: 2014, Mysteries at the Museum/Travel Channel: 2014, WTVQ Kentucky History Treasures: 2014, 2016)