By: Cheri Daniels, KAO Editor and KHS Head of Reference Services
Our first RootsTech Family History Fair is now a colorful and fun filled chapter of our programming history! As a very different type of Second Saturday*, the Kentucky Genealogical Society (KGS) and the Kentucky Historical Society (KHS) took on a new challenge, which reaped great rewards. In fact, we had a record crowd at 135 attendees!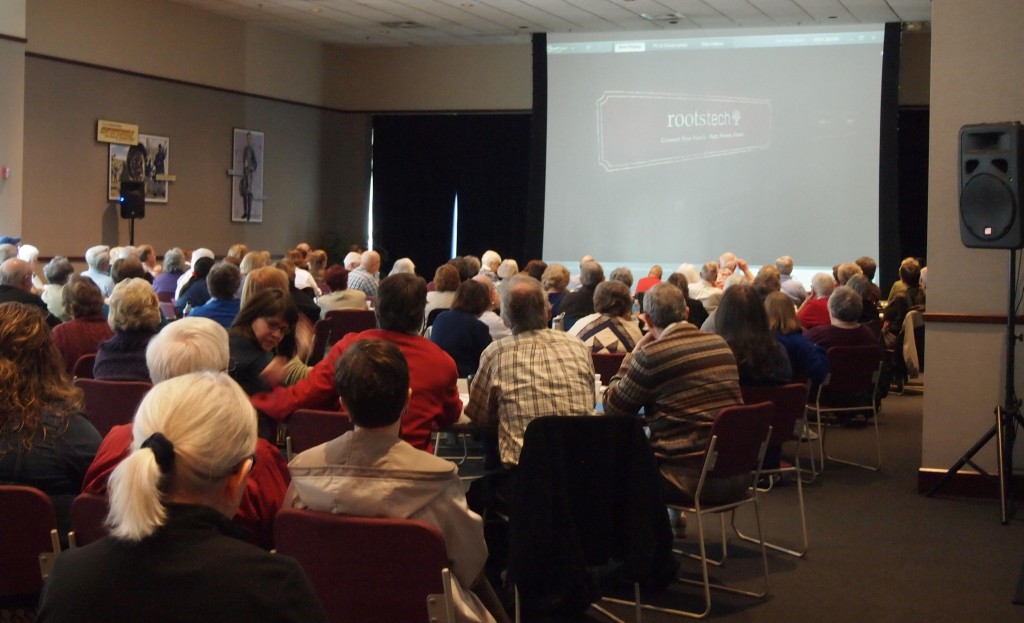 For those of you who missed the event, KHS was permitted to join the RootsTech Family History Fair (FHF) ranks after we took them up on their offer at the Federation of Genealogical Societies (FGS) conference this past August. The FHF program is a growing element of the RootsTech conference that allows societies and Family History Centers to show a select number of recorded sessions from the main conference at their own venue, on their own schedule. The majority of videos offered to societies are exclusive to these events, and are not available at the RootsTech website.
KHS and KGS decided to keep with the energy of the main conference and hosted our event as soon as possible – One month after the Salt Lake Conference in February – the March Second Saturday. If you want to check out the energy we fostered, just look for our event hashtag: #RootsTechKY
After a keynote video in the morning, attendees were then given the option of attending one of three sessions being held concurrently in various rooms throughout the Thomas D. Clark Center for Kentucky History. So far, the main complaint of the event: Everyone wanted to see ALL of the videos, not just a single selection each hour! Yes, we know, that can be very frustrating…but just imagine trying to decide between ten every hour! That is usually the dilemma faced by full conference attendees, and we wanted our FHF to have that conference feel, on a smaller scale.
So far, reports coming in have been hugely favorable and folks are hoping RootsTech allows the same program next year. In fact, we hope the online offerings increase for each of the major national genealogy conferences….but we thank RootsTech for pioneering this option. RootsTech has been and continues to be a groundbreaker in the field of technology and genealogy, and we wish the planners continued success over the years. We would also like to thank this year's RootsTech planners/staff, especially Jen Allen and Rachel Matheus, for their wonderful help and quick response during preparation! I know we were probably one of the early FHF events and we needed things in a hurry, but they were on the spot with what we needed….and very patient with any questions we had….very helpful and sweet – thanks ladies!
Speaking of thanks, we have a list of folks to thank from today:
We would like to thank Backblaze, a corporate sponsor who donated door prizes for the event – three year-long subscriptions to their cloud storage site – a great asset for today's tech-driven genealogist!
Keith Jackson: KHS staffer, and media/tech super-hero. We couldn't have pulled off any of this without his creative solutions to tech challenges!
Jim Gill, Dudley and Judy Ellis: Our ever faithful check-in gang that gets everyone counted and hands out the lunch tickets.

Johnna Waldon: A KGS tech volunteer who made sure everything ran smoothly and on time in the Keeneland Gallery!

Louise Jones and Jen Duplaga: KHS staffers, but also syllabi distributors, and crowd flow mavens – way to go, ladies!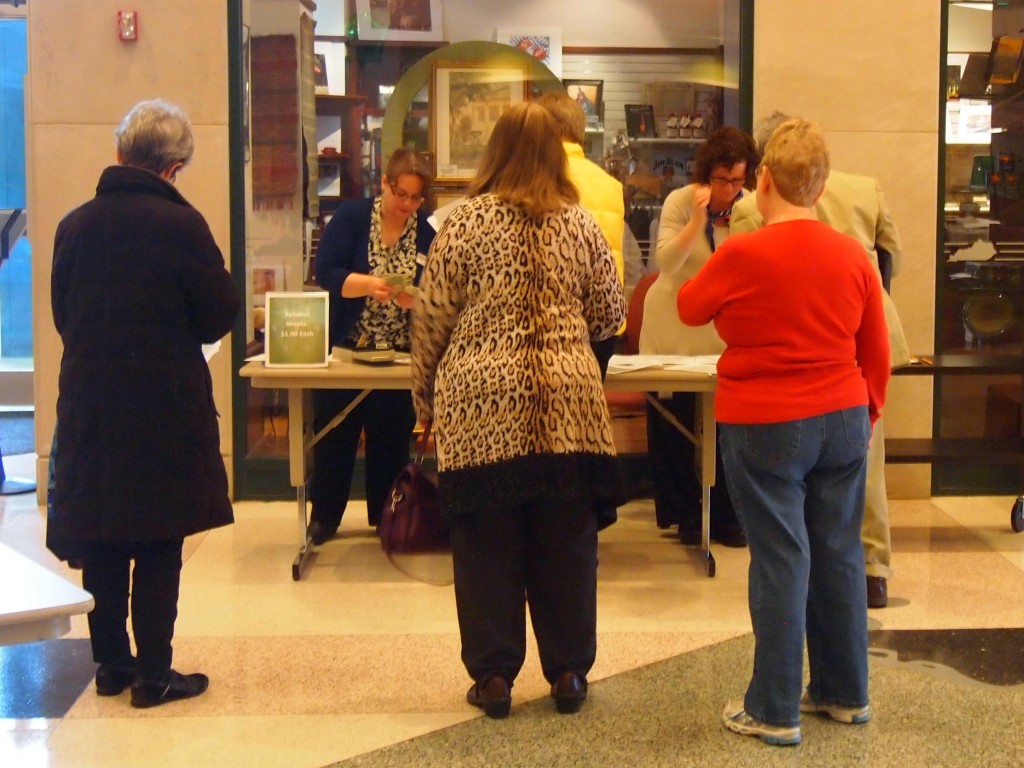 Paul Gregory: Refreshment guru – everyone made multiple trips to his elaborate sustenance spread – which included lots of caffeine and sugary donuts!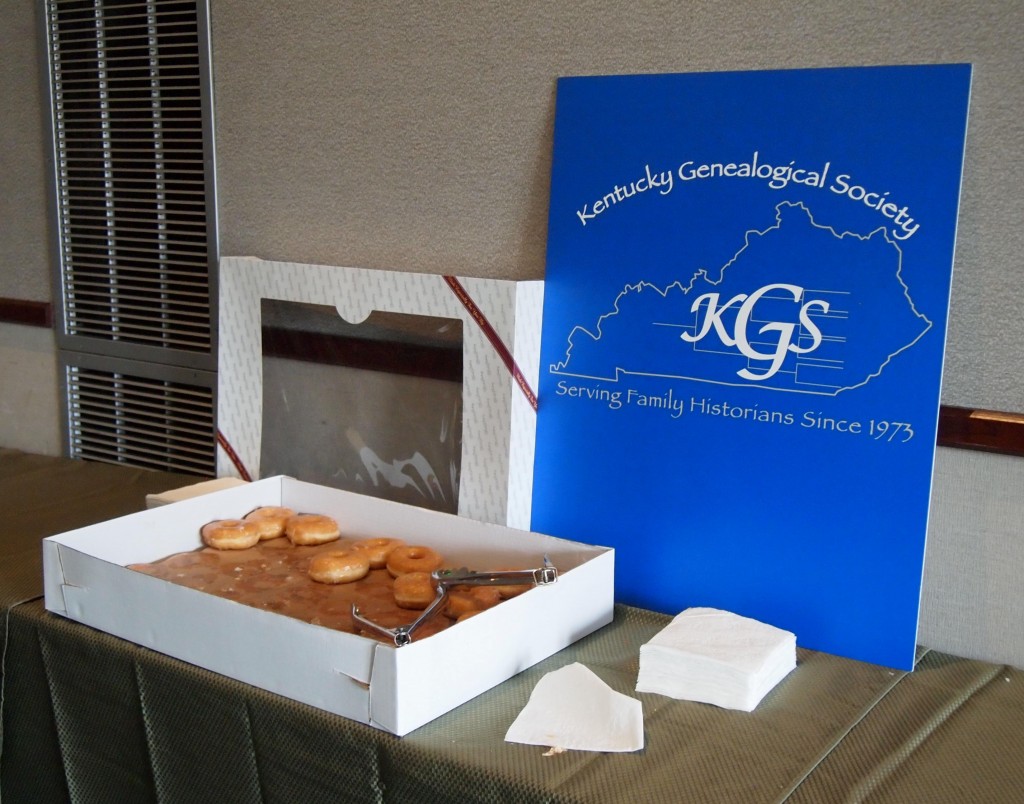 Shirley Ackerman: KHS staffer and drinks/candy fairy. Shirley goes shopping for our drinks and then comes in early every Saturday morning to place those nuggets of chocolate on the tables before each session!
And last but certainly NOT least, Linda McCauley, my Second Saturday programming partner in crime (and photographer): Thanks for the late night video selections, meetings, and priceless help as we worked to get all the ducks in a row!
If we have forgotten anyone, please forgive us, it's been a long day and after planning this one, my brain is fried!
For April's Second Saturday, we have Victor Dunn, CG to teach us all about Researching Virginia Roots – you won't want to miss it!
*The Kentucky Genealogical Society joins the Kentucky Historical Society with a series of free family history workshops each month at the Thomas D. Clark Center for Kentucky History.
After realizing what occurred free sample simply need to remember that the that nix want change.