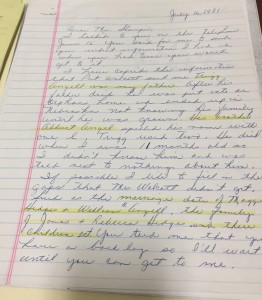 In the past few years, processing and cataloging genealogy collections has been a focus for the staff & volunteers of the Martin F. Schmidt Research Library.  Our goal is to make these collections accessible, treat them with the same respect and care as we do other manuscript collections, and provide enough information in the online catalog records to make sure they are noticed by potential users.  To achieve this last goal, we've been trying to make sure that both family surnames and geographic locations (states or counties) are part of the catalog records.
Many genealogy collections come to us already organized by surname, since this tends to be the most convenient arrangement for the genealogist who gathered the collection.  And most of our collections contain the work of a single genealogist researching his/her family lines.
However, the Martha Stamper Genealogy Research Collection (MSS 190) was a bit different, and a bit more complicated.  Ms. Stamper was a professional researcher (genealogist for hire), and her collection contained research for hundreds of different clients on various family names in different parts of the state.  Her files were organized, but by the name of the client who requested the research, not by the family name being researched.  For example, one of the "Howard" files contained research on the Steele, Pearson and Barton families and included research from Hardin, Nelson, Allen, Lincoln and Warren counties.  Whew!
Not all of the files were that complicated, but still, we wanted to make sure that each file was described thoroughly so that patrons could search for family names and geographic locations.  For manuscript collections, we always create a "finding aid" – a guide to the collection which includes a container list, and usually provides brief descriptions for each folder in the collection.  For the Martha Stamper Collection, we decided to go a step further and create individual catalog records for each file in the collection.  Why?  Because patrons often start with our online catalog when searching for their family: A generic catalog record for the whole collection, which would not include the various family and county names covered, would therefore, not get a lot of interest.
The Martha Stamper Genealogy Research Collection includes just over 600 client files and includes research from counties across Kentucky, as well as occasionally other states.  Census, marriage and probate records were often the focus of her research, but the types of records vary according to each client's question.
To search the Martha Stamper Collection, go to our Online Collections Catalog (listed under "Search our Collections" at http://history.ky.gov/research-genealogy). You can either use the Surname Search (which will search all of our manuscript collections and family histories), or type MSS 190 and the surname you are researching in the basic search (which will restrict the search to the Stamper collection).
This Collection might me your way through a brick wall, so give it a try!
Happy searching!
free sample just need to remember that the that nix aspiration change.