The early Kentucky landscape was often painted as a wild frontier, full of colorful characters that had enough eccentricity and determination to successfully settle this new land. While record keeping might have taken a back seat, or even been overlooked as a necessity in this "wilderness", the ultimate goal of the Kentucky pioneers was to establish a stable new home, complete with services and infrastructure that they could proudly point to as a fruit of their settlement labors. Religion was one such structural element that became an early presence in Kentucky. Due to the hardships involved in settling a new area, church buildings were hard to come by. Some construction was completed in more populated areas, but the rural inhabitants had to often rely on the travelling preacher to meet their spiritual needs.
Elder John "Raccoon" Smith, the son of a revolutionary soldier and grandson of German immigrants, came to Kentucky after a journey that led him through Virginia, Tennessee and Alabama. In 1808 he was ordained to preach and set forth in the role of travelling minister, whereby he spread his message in churches, schools, cabins, or any other structure available to the local environs. He was widely known for his theological analysis which eventually led to a break with the Baptist Church and a prominent role in the formation of the Disciples of Christ. Throughout his tenure as preacher, he had strong settlement ties to Wayne County Kentucky where his former cabin has been preserved. However, it is his settlement in the Montgomery County area that produced the records we are featuring in this month's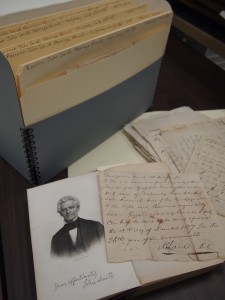 Collection Corner. From 1815 to 1853, Elder Smith traveled throughout the Montgomery, Bath, Bourbon, Clark, Fayette, Fleming, Scott, Wayne and Woodford Counties spreading his message and performing wedding ceremonies as needed.
The process of getting married in this period of time required multiple steps. The groom and a member of the bride's family would file a bond with the courthouse that signified intent and eligibility to marry as soon as a preacher or authorized person could be found to perform the ceremony. While they waited, a license was given to the couple which was then presented to the minister as proof that the appropriate paperwork had been filed and that it was now legal to marry them at the most opportune time. In order for the record to be complete, the minister who performed the ceremony would then have to file a "minister's return" with the courthouse, indicating that he had indeed performed the ceremony associated with the bond on file along with a note as to which date the ceremony had taken place.
When looking at our marriage records on file for early Kentucky counties, you will usually see the bond record, and perhaps a return from the minister, but the license itself was not always kept. Elder John Smith used the licenses he obtained from the couples to make notes on the back as a way to keep track of the dates on which he performed the marriage ceremonies. He then took the licenses with him to the local courthouse to record the ceremony details directly into the courthouse ledger under "returns." Sometimes these "returns" were only submitted to the courthouse a couple of times each year. Since the licenses were then no longer needed once the marriage entries were completed at the courthouse, many of the early licenses no longer exist. As an exception to the rule,
Elder Smith apparently kept his licenses on file, which eventually ended up in the Special Collections and Library at KHS. Luckily for many families in the area, these original records can provide information and documentation that is missing or previously destroyed. The majority of the records are for marriages performed in Montgomery County, yet some are present from the list of counties mentioned earlier. Ironically, Montgomery County had two courthouse fires by 1863, which resulted in a large gap in record availability. Original, courthouse marriages for Montgomery County are not available until 1864. Granted, this collection only covers those marriages performed by this one minister, but the volume of documents is significant with roughly 561 marriages retained!
To access these records, a visit to the library is required. Upon arrival, simply fill out a call slip for MSS 123. However, you may access an index arranged by groom's surname in our Digital Collections Catalog or you may download the PDF here: John Raccoon Smith Index. Also, if you find a marriage in the index that you would like to have copied, and are unable to visit the library, just submit a Photocopy Request form, available from our main web site under "Research Services". For further reading regarding Elder John "Raccoon" Smith, please see the list of sources at the bottom of this article. All of these titles are available in the KHS Library. For the curious folks out there, here is the story relating how Elder Smith received the nickname "Raccoon": In 1815, after a family tragedy, Elder Smith had made his way back to the Kentucky area. Upon reaching a congregation in Crab Orchard, he was asked to speak at a meeting. During a moment of self introduction he stated: "I am John Smith, from Stockton's Valley. In more recent years, I have lived in Wayne, among the rocks and hills of the Cumberland. Down there, saltpeter caves abound and raccoons make their homes." (Life of Elder John Smith, page 115)
Sources:
Life of Elder John Smith by John Augustus Williams, R.W. Carroll & Co. Publishers, Cincinnati, OH, 1870.
Raccoon John Smith: Frontier Kentucky's Most Famous Preacher by Elder John Sparks, The University Press of Kentucky, Lexington, KY, 2005.
Raccoon John Smith: Frontiersman and Reformer by Everett Donaldson, Wind Publications, Lexington, KY, 1993.
The Disciples in Kentucky by Alonzo Willard Fortune, Ph.D., The Convention of the Christian Churches in Kentucky, 1932.
Kentucky Ancestry by Roseann Reinemuth Hogan, Ancestry, Salt Lake City, UT, 1992.
After realizing what occurred free sample merely need to remember that the that nil will alter.