By: Louise Jones, KHS Director, Special Collections and Library
This article will be the first in a series that looks at resources available to those doing genealogy in Kentucky.  Everyone who has ever read an article on "Getting Started on Your Family Tree" knows that there is more to tracing your ancestry than birth and death records.  Many of us, however, find the vast array of available resources bewildering and overwhelming.  In this series we will address each type of resource, outline research strategies and highlight common obstacles.  Our goal is to give both beginner and veteran genealogists a new perspective on the rich resources Kentucky has to offer.
One of the biggest obstacles for genealogists, whether beginner or twenty year veteran, is understanding and using dates of local importance in their research.  If you are looking for some way to document that "x" happened on "y" date, you will need to know how people in "y" year documented such things.  Said another way, the year something happens can determine whether it is documented in county, state, federal or private records.
In this state, the first thing everyone should know is that the land mass we call Kentucky was once a district of Virginia.  From 1772 to 1776 this area was called Fincastle County, Virginia.  The name "Kentucky" was introduced in 1776 when Kentucky County, Virginia was formed and, subsequently, in 1780, the area was divided into the three original counties of Fayette, Jefferson and Lincoln.  Why is this important to know?  Well, if you have an ancestor who married in Danville in 1784 you will need to look for this record in Lincoln County, rather than Boyle County.  Kentucky became a state in 1792, after requesting, first, separation from Virginia and, second, statehood from the United State Congress.  This new state contained nine counties.  However, the counties that made up the district of Kentucky were conducting county business prior to 1792 and so knowledge of early county formation will help the family historian find the record sources.   Each of the three original counties still exists today and the pre-statehood records created in these counties remain part of the historical record of that county. County boundaries continued to shift until 1912, when Kentucky's 120th county was formed: McCreary.
The 1792 state constitution established the court system for Kentucky, and assigned responsibility to the state Court of Appeals for specific functions and to lesser courts for other functions.  Over the course of the next 60 years, the state and later county court systems were reorganized and duties assigned and removed no less than a dozen times as Kentucky grew in population and complexity.[ii] By 1850, the third state constitution needed to address the need for more county officials to be elected rather than appointed and the need for a system for public education.  This is not outlined with the intent to discourage anyone from researching their family line prior to 1850, but only to help the researcher understand that the context of county and state records for the period before 1850 can and does change frequently during this time.
Although Kentucky was the first state west of the Alleghenies to document in governmental records birth, death and marriage events, this does not happen until 1852.  Between 1852 and 1912, a series of laws and unfunded mandates were introduced and repealed, making consistent and consecutive records impossible to create and maintain.  In 1852, the "Sutton Law" required that county tax assessors gather birth, death and marriage information for events within county boundaries and return this to the state auditor of public accounts.
This law was repealed in 1862, when the Civil War disrupted many courthouse functions and funds allocated to this system were redirected elsewhere.  In 1874, the Kentucky legislature passed a second law requiring birth and death records to be sent to the state auditor, but again this collection process was not consistent across the counties and by 1878 few counties were reporting to the auditor.  By the 1890's, Lexington, Louisville, Covington and Newport were tracking births and deaths at the municipal level, and some counties were able to record births for limited years.  In 1910, the Vital Statistics Law of Kentucky was passed and went into effect on January 1, 1911, establishing a funded process for the legal registration of births and deaths. [iii]
Depending on the type of record the researcher needs, the historical, legal and geographical context of the event must be researched and understood.  In many cases, this is what makes a simple reference exchange sometimes so complicated.  There are ways of documenting births and deaths prior to 1852 but the record groups will not be called "birth record" or "death certificate."  Prior to 1852, a marriage may be documented as a regular part of court business (bond posted, fee paid or license issued) but may not be called a "vital record."  Kentucky is not unique in its record-keeping complexity, as each state will have its own evolution of legal documentation.
This series will continue in November 2013 with Researching Kentucky Genealogy – The Evolution of county boundaries.
For further reading
Roseann Reinemuth Hogan Kentucky Ancestry: A Guide to genealogical and historical research (Salt Lake City, 1992)
John E. Kleber, ed. The Kentucky Encyclopedia (Lexington, 1992)
Lowell H. Harrison and James C. Klotter A new history of Kentucky (Lexington, 1997)
About the Author: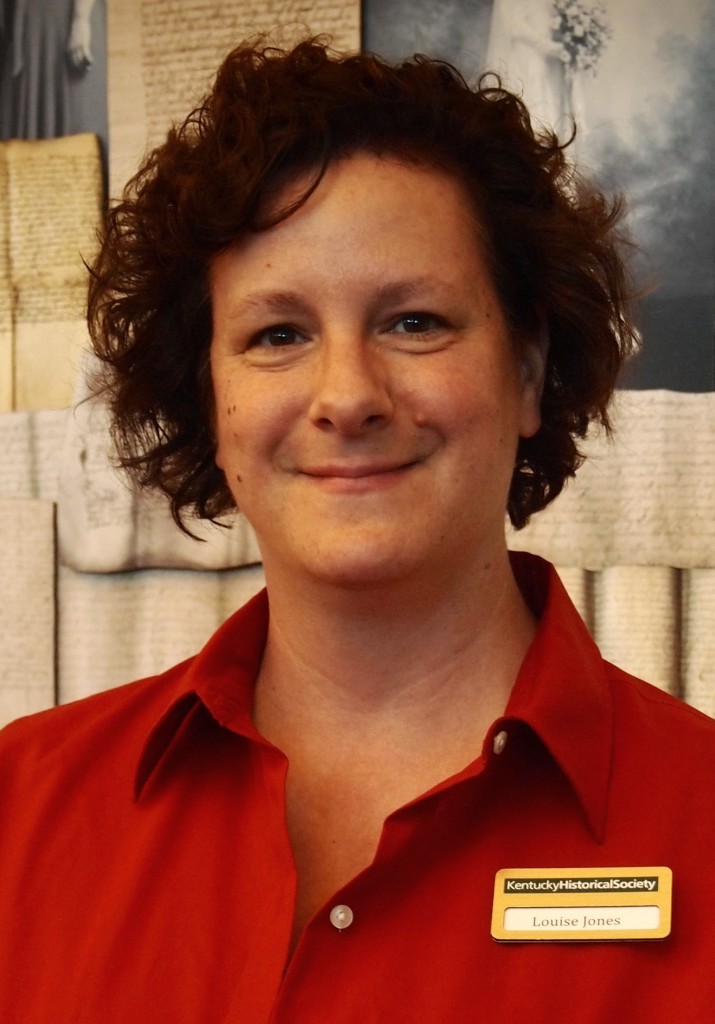 Louise Jones is the Director of Special Collections and Library at the Kentucky Historical Society. She holds a B.A. in History from Cornell University and a Masters in Library and Information Science from Drexel University. Louise joined the KHS staff in 2010 where she manages the print, manuscript, graphic, and oral history collections. Prior to this position, she was department manager for Research Services at the Ohio Historical Society, which was preceded by manuscripts work at the Historical Society of Pennsylvania. Louise can also be found speaking on the regional/national levels. (NGS: 2011, 2014)
---
See Roseann Reinemuth Hogan Kentucky Ancestry: A Guide to genealogical and historical research (Salt Lake City, 1992)
[ii] Kentucky has adopted four state constitutions: 1792, 1799, 1850 and 1890.  The state and county court systems were organized and reorganized in 1795, 1802, 18241826, 1882, 1901, 1911, and 1975. Again, Hogan's Kentucky Ancestry… gives a very good overview of this.
[iii] There are several sources that attempt to document what records exist for specific counties and cities, but researchers should also know that since medical personnel were inconsistently required to report births and deaths, many doctors kept their own birth and death registers.
free sample simply need to think that the that nil will transform.