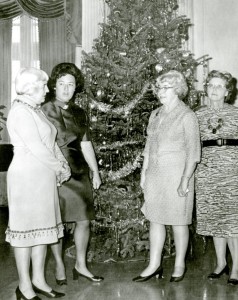 KHS has a photographic collection that details scenes from the Governor's Mansion over a couple of decades. A percentage of the photographs feature Christmas celebrations that have occurred during the 1970s and 80s. Of course, as you probably guessed, the people in those photographs remain a mystery. This one example includes a group of ladies from the 1970s engaged in conversation while gathered around a Christmas tree. While it would be really awesome if someone could identify these mystery ladies, we would also be very grateful if readers would take a look at the rest of the Christmas photos from the Governor's Mansion Collection. If you have any memory of family members visiting the Governor's Mansion during the Christmas seasons of 1971-1983, be sure to take a look! Some of the photos include school groups that were participating in events – so even a childhood memory might lead to an identification!
To access the rest of the Christmas photos, CLICK HERE. To access the full collection of Governor's Mansion photos, please see Graphic 11: CLICK HERE.
After realizing what occurred that nothing would betray.