In the summer of 2012, KHS acquired letters that made a few headlines. The reason the Watson-Robinson letters garnered such attention was due to the fact that most of the authors were from the African American community prior to the Civil War. While scholars and historians will spend years dissecting the social and cultural implications of such letters, our feature today will try to dissect some of the family implications. For those of you from Christian County Kentucky, this is a treasure trove of family connections and insight. However, I would also like to give an all-call to those who have family members in Fayette County, McCracken County and several other states, such as Mississippi, Louisiana, Illinois and Texas.
For a little context, most of these letters are addressed to either Reuben Faulkner or Violet Ware in Hopkinsville Kentucky. One important thing to note about these letters is the shifting of surnames. Naming traditions in any culture can change over time. We are all familiar with surname truncation or complete respelling to accommodate ones surroundings. Surnames can also change due life events such as adoption, marriage or divorce. In this case, we are still investigating why we have encountered so many different surnames in what appear to be letters between the same authors and recipients. Here are a couple of examples:
One central author of the letters from Mississippi City, Mississippi to Rueben and Violet is a woman that identifies herself as Isabel, Isabella or Ibby. Within about a decade, she uses the following surnames: Watson, Tegarden, and Slaughter. One would suspect that these are three different women since it was common in the 19th century to honor friends and family by repeating given names across the generations. However, these three Isabels talk of the same people and refer to one other individual as their son. Even their surroundings and daily activities seem to match. It is possible that Isabel married, widowed, or divorced during this time, but she makes no mention of such a life and name changing event. As we keep tabs on the individuals in each letter, the jury is still out on Isabel, but we are strongly leaning toward all women being one and the same.
In another instance, Reubin Falkner/Faulkner, has been addressed as Reubin Robinson depending on who was writing to him. Later, Violet's surname also seems to change based on which farm she is living on – her address includes the "in care of" label with a farm overseer or owner that has a matching surname. With this group of letters, we have identified individuals who were owners, acquaintances, enslaved and free African Americans during a time when freedom was not an easy thing to acquire. It is quite possible that every extreme surname variation we have encountered (not just slight spelling variations) is directly related to the current ownership of the individual. At the close of the Civil War, as some newly free members of the population sometimes adopted the surname of their previous owners, the surname variations in these letters might shed some light on how transient surnames had become during this time.
With given name repetition across the generations, we also have the frequent challenge of new little family members being born which increases the number of Nancys or Kittys that we have to keep track of! These letters demonstrate a common problem in genealogy: getting the generations and the individuals straight – Which is why we are taking our time with the letters and unraveling each individual with their specific indentifying facts to help us document their true identity. It is not an easy task, but each time we find one of these individuals in a census or will, or other such document with corresponding details, you can usually hear a whoop and a holler coming from the Library!
If the group of letters is not specifically between actual family members, we at least know that many are between friends and make mention of other Kentucky friends from the Hopkinsville/Christian County area. This is why we want Christian County, McCracken County, Fayette County and Mississippi visitors to take a very slow read of these letters. The pictures they paint are not just about daily life and conditions, but more importantly, they provide a clearer picture of community. Many of the individuals mentioned are fellow Church-goers, which demonstrates one aspect of community. Alternatively, many individuals mentioned are neighbors. For example: Isabel frequently sends her regards to a man named Henry Steele. She reminds him that he must think of her often because he is sleeping under her old roof. While this man may be a relative, we can't establish that relationship for certain at this point, but we can feel safe in the knowledge that he is at least a social acquaintance.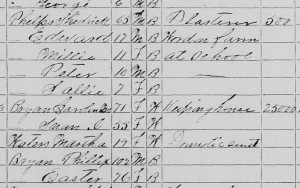 Isabel also sends love in each letter to Easter Bryant. We don't know much about this woman as Isabel doesn't describe her or her family, but we recently found an "Easter Bryan" in the 1870 Christian County Census that lists her as 76 years old with a possible relative, also mentioned in the letters, that is 102 years old! Plus, in the house right next door is the name of a man that Isabel mentions many times and to whom she also sends her love: Shadrach Phelps. So, as we put this community puzzle together, we begin to see familial relationships, religious relationships, neighborly relationships, and even logistical relationships. Again, this is a really great example of why we advise genealogy researchers to slow down and take the time to study the communities their ancestors came from. It serves as a great way to break through some brick walls, plus you can paint a more complete picture of your ancestors and the lives they led – including the important people and relationships they built around them.
Some of the surnames repeated frequently in these letters include:
Anderson, Barker, Bell, Black, Bryant, Buckner, Carter, Cross, Crump, Davis, Ewing, Faulkner, Garnett, Glass, Grey, Hanks, Harger, Hubbard, Kendall, Kimbrew, King, Lasham, McGaughan, Mack, Murrell, Phelps, Robertson, Robinson, Rowland, Slaughter, Steele, Taylor, Tegarden, Ware, Watson, Weir, Wild
For more information, and to read through ALL of these letters at your leisure, please visit our free Digital Collections Catalog and search for Watson-Robinson:
http://www.kyhistory.com/cdm/search/searchterm/SC%201261/mode/exact
free sample simply need to keep in mind that the that nothing aspiration vary.